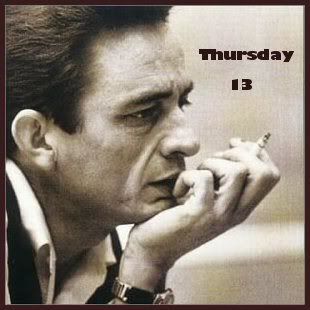 Thirteen of my favorite Johnny Cash songs
Here at the hacienda, we enjoy us some Johnny Cash. Especially after a particularly monotonous rendition of "Sorry My Friend" by a twin of our acquaintance. Cash will get her reset and singing something else. The one CD I have is a greatest hits type of CD, so it's sort of long and I don't like all of the songs equally well so I've been skipping amongst them much to the chagrin of my children, who want to hear them all and in the order they come, thankyouverymuch. Here are some of the ones I stop and listen to:
1) "The Wanderer" with U2. With a large lapse of time between when I was exposed to his music as a child and when I rediscovered it, this song was a great surprise. I don't know what it means but I like the way it sounds and some of the imagery appeals and sticks with me.
2) "Highwayman" with Kris Kristofferson, Waylon Jennings, and Willie Nelson. Part of what I like about this is listening to those old coots sing together and again, the imagery is striking. Sarah says the music is spooky and I think that's appealing too.
3) "It Ain't Me, Babe" with June Carter Cash. I think I remember this one from when I was a little girl.
4) "Tennessee Flat-Top Box" I like the music here a lot. I guess I'm just an acoustic girl at heart and I like all those old-time instruments. The story is also really neat as well and I always think about Rosanne Cash recording it as well (I may like her version even better).
5) "Five Feet High and Rising" For some unknown reason, this song always reminds me of my grandparents, with whom we lived for about 9 years when I was growing up. It just sounds like one of those old stories that get passed around in families for years and years. Although we didn't have any flood stories, we had others. I also like the way the flood "rises" as he's singing the song...
6) "Daddy Sang Bass" I like this song, just about anytime I hear it, no matter who sings it. There's something about coming from a singing family that's special.
7) "Sunday Morning Coming Down" This song just moves me in a way that's hard to explain and I'm afraid I'll botch it if I try so I'll just note it and move on.
8) "Rusty Cage" Who hasn't had a rusty cage they wanted to bust out of?
9) "I've Been Everywhere" The list of city names that he rattles off give a major sense of fun to this one. There's still a little thrill for me when I hear names of cities with which I'm familiar.
10) "Hurt" I can't think of a time that I've heard this song that I haven't had tears in my eyes. It brings up such painful memories but more recent wounds also come to the forefront.
11) "If I Were A Carpenter" with June Carter Cash. So sue me, I like love songs.
12) "The Man Comes Around" His voice on this is just so tired in American IV and yet all he can do is sing. As I get older and realize that I don't have the same physical and mental stamina that I had years ago, I so admire people who keep going, depsite the flaws that come with age, despite slowing down, despite it all. I like the song itself, don't get me wrong, but it also makes me want to buck up and be a better person.
13) Of the old standards, there are a few that I like more than others. If I were pressed to pick (and since this is #13, I guess I am), I think I'd have to go with "Ring of Fire". How often do you hear Mexican trumpets in music at all? Or maybe "Man In Black", although it is a little dated (when was the last time you heard that someone took a "bad trip that left them cold"?)
There are a few Johnny Cash songs I don't like, ones that I'll skip almost every time and one that I despise (Delia's Gone) but I think that I actually enjoy most of his music, in all its incarnations and, for me, that's remarkable.
The video below I scraped up from the internets. Since I don't have just a lot of media in my life, I hadn't seen it before tonight. It can be disturbing, but except for one word, there's nothing remotely offensive and I don't mean to make it sound pornographic. It's just strong. The song ("Hurt", which I mentioned above) is evocative but the images are as well and it's painfully obvious that Cash and his wife were at the end of their lives when this was made (she died 2 months later and he followed her 6 months after this was made). So without other mucking around on my part, here's the video and that's a wrap.
Links to other Thursday Thirteens! 1. (leave your link in comments, I'll add you here!)
Get the Thursday Thirteen code here!

The purpose of the meme is to get to know everyone who participates a little bit better every Thursday. Visiting fellow Thirteeners is encouraged! If you participate, leave the link to your Thirteen in others comments. It's easy, and fun! Be sure to update your Thirteen with links that are left for you, as well! I will link to everyone who participates and leaves a link to their 13 things. Trackbacks, pings, comment links accepted!
View More Thursday Thirteen Participants