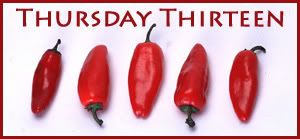 Thirteen new things/experiences that my children saw/had in Texas
1. A family reunion with random "kissing cousins". They're vastly confused about how all of these people fit in the constellation.
2. The wide Texas skies
3. Grass burrs, aka "stickers" which are a very good reason to wear shoes when you're outside in Texas. Poor David was running around barefoot in the playground near the venue where the reunion was held, despite my telling him over and over to put his shoes on. He got one embedded in his heel and when I went to take it out, I unthinkingly said, "That's a sticker, son. They hurt and that's why I wanted you to wear your shoes." He looked at me like I was nuts. I could almost hear him thinking, "That's not a sticker! Stickers are cool things you put on paper, not bad things that stick in your feet!"
4. A town square. I don't know why we've never been in a town square (at least I don't recall having been) but we "did the square" in Brady.
5. Oil wells. There were oil wells galore all over Oklahoma and the parts of Texas where we were. They were disbelieving that that was what those things actually were.
6. Cotton fields. Again, they were very disbelieving about the fact that those white tufts were actual cotton. I really wanted to photograph them next to or in a field of cotton but time did not permit. Maybe next time.
7. Walking around town, in the middle of the street, without bothering to look for traffic. This was in Melvin which is, as I have mentioned before, pretty much of a ghost town. It took the girls a while to adjust but David was in his element.
8. Fire ants. (By the way, you have to pronounce them "far ants" when you're in Texas.) We saw them all over. I accidentally set David down in a bed of them when I went back to get a shoe that he'd kicked off his foot. Fortunately, I plucked him out pretty quickly when I returned with the shoe and realized what I had done. Those buggers are nasty critters.
9. "Calling the Hogs", ala the Arkansas Razorbacks. You'll do a lot of funny things in a 4 day car trip.
10. Rivalry between The University of Texas and Texas A&M University. One of the cousins from Pennsylvania was wearing a Longhorns shirt and was accosted by other cousins who hail from TAMU. He said, in utter confusion, "I'm in Texas, I thought this was what I was supposed to wear." The Aggie cousin said, "Not around here." I reassured him that he was safe and even welcome in some circles, just not in that particular one (and that Cousin Lisa had said her piece and wasn't going to annihilate him).
11. Picking up pecans. While this is not exactly a quintessential Texas activity, it was one that absorbed many hours of my life when I was growing up. Every Thanksgiving that we spent in Brady, Mamaw sent us outside to clear her yard (and the street) of the fallen pecans. Mother took them to a man in town who would crack them for us and we'd spend a few nights in the winter shelling and bagging pecans. We happened to be in Brady when the pecans were falling and I showed them how to crack them without a nut cracker (that would be "under your shoe and carefully") and pick out the nut meats. They were astounded that you could just walk around picking up nuts from the street even, and have the nuts. They don't even particularly like pecans and they got a kick out of that. Too bad we don't have any pecans around here.
12. And speaking of trees, I pointed out not only the pecan trees, but they got to see their first cottonwoods and live oaks. This does not sound significant, I know, but they listened to Hank the Cowdog all the way down there and Hank mentions cottonwoods quite frequently. So now the chlidren know what they look like. And live oaks are just cool trees. My grandmother had a multitude of them in her side yard and we'd always climb them, ride them, and take pictures in them.
13. Swimming in a "tank". I had forgotten that they were called "tanks" until Friend Brian reminded me last week. Friends Tony and Norma have a couple of small ponds on their property that they encouraged the children to wade and splash in. Of course, it didn't take them long to start swimming in them as well. I will point out here that Sarah did not participate in this activity, as she did not want to squish mud between her feet. Come to think about it, this is one of the few times they've ever been in water that wasn't chlorinated and encased in concrete. What a waste of a good childhood!
There were other cool (and probably not so cool) things that they experienced when we were there. It was the first time that they'd been in a town where a significant number of the buildings were abandoned and falling apart. They also (very kindly, I might add), put up with not one but two trips to cemeteries in one day and dealt with my history obsession there and at the old homeplace very well. It was a grand trip.
Links to other Thursday Thirteens!
1. (leave your link in comments, I'll add you here!)
Get the Thursday Thirteen code here!


The purpose of the meme is to get to know everyone who participates a little bit better every Thursday. Visiting fellow Thirteeners is encouraged! If you participate, leave the link to your Thirteen in others comments. It's easy, and fun! Be sure to update your Thirteen with links that are left for you, as well! I will link to everyone who participates and leaves a link to their 13 things. Trackbacks, pings, comment links accepted!

View More Thursday Thirteen Participants