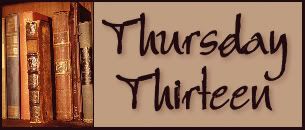 Thirteen of my very favoritest books


Yes, I'm stretching but I couldn't think of anything else to write about today. (And yes, Julie, I know that I'm under no obligation to write but I do feel sort of a compulsion on Thursdays.)
When I was a youngster, for some reason, I decided that it would be really really cool to own and read the classics of literature. I did very well with this until I got married, started graduate school, had children, etc. Then I was just looking for release and not validation of my basic worth as a person. Well, I was looking for the validation but it was more important to me to just chill. So this list is quite a bit different than it would have been say 20 years ago.
1. ...And Ladies of the Club by Helen Hooven Santmyer I first discovered this book when I was breastfeeding my now 8-year-old daughter. If I didn't read while we were nursing, I would fall asleep, which could have negative effects for both me and the baby. I think I must have picked this book up at a library sale. It was a very thick paperback and had pictures of people who looked interesting to me so I got it. I was soon engrossed in the doings of Waynesboro, OH, Anne Alexander Gordon and Sally Cochran Rausch. I still read it about every year (just finished this year's reading of it) and I get something new out of it every time. If you don't like tales that involve the entire life span of the characters, you won't like this one.
Recently I was reading a book about ghosts in Ohio and came across a reference to the book. I knew that the author lived in Xenia, which is about an hour north of here, but it never occurred to me that she was taking scenery and actual characters from her hometown. They mentioned not only a certain house in this book but a couple of characters as well. My cup runneth over.
2. The Little House books by Laura Ingalls Wilder. Naturally, I read these more as a child, but I still read them over again periodically. I don't read my own copies of them anymore because they are about to fall apart at the seams as it is. We have listened to these books on tape when we're on long road trips. I can highly recommend the Harper Collins series with Cherry Jones as narrator.
I can't recall if I did this audibly while we were driving, but many of the scenes I could quote almost verbatim from reading them so very often over the years. Also interesting are the collected articles she did for the Missouri Ruralist in the earlier part of the 1900's.
3. Little Women/Little Men/Jo's Boys, etc. by Louisa May Alcott. Again, books that I've read repeatedly through the years, but they touch me in different ways each time I read them. Yes, I know that she wrote other books for adults but remember, this is escapist reading for me.
4. Chaim Potok's books, especially Davita's Harp and The Promise. I've always been fascinated with Orthodox Judaism and Judaism as a whole and its parallels to fundamentalist Christianity and, while these are only works of fiction, at least some of his later novels were largely based on real people and situations. The question of finding your bridge from your parents' beliefs and struggles to your own is compelling to many, I think. I could always relate to that theme and the theme of figuring out how to integrate real, modern life into your ancient and deeply-held religious beliefs.
5. Faye Kellerman's books, especially Street Dreams and Double Homicide, which she wrote with her husband, novelist Jonathan Kellerman. Actually, I just really like the characters of Rina Lazarus Decker and her husband Peter. The only book of hers that I didn't really like was The Quality of Mercy, which dealt with the Spanish Jews during the Inquisition. I was reading it during lunch and it has a quite graphic depiction of someone burning at the stake, I think. It was rather too much and even thinking about it now makes me queasy.
6. Earlene Fowler's books, especially Mariner's Compass and Sunshine and Shadow, for different reasons. I really like the main characters in this series and enjoy the glimpse into a world about which I would know nothing if it weren't for her books. Sunshine and Shadow, especially, ended with a bang and left me crying and wanting more, right this very minute. Mariner's Compass fed into my need to know who my parents really were as people, before they were my parents, and also spoke to the part of me that felt abandoned as a child. It might not hit you the same way and I'm pretty sure that S&S wouldn't if you don't know the characters, but I'd still recommend the series.
7. Diane Mott Davidson's books, especially The Last Suppers and Sticks and Scones. I guess this is turning into "my favorite authors" rather than my favorite books. Oh well. I like Davidson's books and her recipes but word to the wise, the books after and including Double Shot are significantly darker than the ones previous. Double Shot was a good book, but written in a totally different way than the ones before it. After DS, Davidson seemed to return to more of the Goldy Bear Schultz formula but it was still more informed and colored by knowledge of the seamier side of life.
8. And yet another author: Joanne Fluke, who writes the Hannah Swensen series. My favorite of hers is the Sugar Cookie Murder, as much for the recipes as for the story. Fluke, like Davidson, includes delicious recipes in the book. Sugar Cookie Murder not only has the signature cookie recipes but all sorts of other yummy things (and Fluke's recipes are quite a bit more accessible to the average person than Davidson's). Looking over the Amazon listings, I realize that I've missed out on two new Hannah Swensen books and a collaboration with two other authors. I can't wait until they come in to the library!
9. The Last Season by Eric Blehm. I don't buy books as much as I used to. Well, let me amend that by saying that I don't buy many new books anymore. No money for it, for one thing, and I've also learned to use the resources at my public library to circumvent my having to buy books. This is one book that I read from the library that I then went out and acquired a copy of. I've written about it before (probably about 18 months ago) and more effusively. It's the story of Randy Morgenson, an experienced park ranger who disappeared in the Sierras in 1996. While some of the background information is, to be blunt, tedious, the depictions of the wilderness that Morgenson loved were soaring and spectacular. It gave me a whole new appreciation for our wild areas and the people who work there. Of course, I love a good mystery and the one surrounding Morgenson's disappearance is well paced and well-written.
10. Those Who Love by Irving Stone and John Adams by David McCullough. Those Who Love ignited my years-long obsession with Abigail Adams and John Adams helped me to appreciate her beloved friend and husband. Actually, now that I think about it, my own Friend Husband bought me both copies that I own...go, Friend Husband!
I can't explain to you who deeply obsessed I was with Abigail Adams. I could quote long passages about her life and what it meant both to those around her and to me. I've got a shelf and a half of books just about Adams and her descendants. Though TWL is a novel, and I imagine that, if I were to read it again, it would seem rather ponderous, it was so interesting a book to me that it made me want to go out there and learn more about the wife of our second president (and mother of our 6th).
I also love the way that David McCullough gets into his subjects and makes them living breathing people (I also really liked Truman). That has inspired me to go out and learn about the subjects on my own (and to independently verify some of the claims made by historians).
11. Isaac's Storm by Erik Larson (I also liked The Devil in the White City). I'm sensing a theme here: history combined with the personal stories of actual people. This was a recollection of the hurricane that leveled Galveston, TX, in 1900 and the meterologist who was supposed to be responsible for warning the population about it. It was also a book about the world of 1900 and how it was on the cusp of change.
12. Over the Edge: Death in the Grand Canyon. Ok, I'm stretching here but I'm having trouble getting to 13 and Rachel needs to use the computer. I did like this book. Sadly, it made me laugh. And it made me super vigilant about our children when I take them anywhere out in anything approaching "the wild".
13. Books by Chitra Banerjee Divakaruni and The Hindi-Bindi Club by Monica Pradhan. I love books about different cultures (see # 4 above) and I am especially fascinated by India and Indian (and Indian-American) culture. The Hindi-Bindi Club has the added advantage of recipes (and I can highly recommend the Goan Shrimp Curry, having made that last night). The books are mainly about Indian women and their relationships, which is also fascinating to me. Women's relationships, I mean. Having been such a tomboy when I was growing up, it wasn't until graduate school that I had a really deep relationship with women at all. Now I find myself surrounded by them at all times and I still feel a little, shall we say, out of my element.
Something about Divakaruni's writing is very mysterious and compelling and I have read her books more than once.
Ok, sorry, this has dragged on ad infinitem. Hope it was enjoyable. Happy Thursday, everyone!
Get the Thursday Thirteen code here!


The purpose of the meme is to get to know everyone who participates a little bit better every Thursday. Visiting fellow Thirteeners is encouraged! If you participate, leave the link to your Thirteen in others' comments. It's easy, and fun! Trackbacks, pings, comment links accepted!

View More Thursday Thirteen Participants