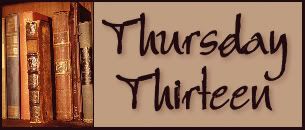 Thirteen Books in my queue
These are books that I actually have in my possession which are awaiting their turn to be perused. When it gets cold and snowy, I have a tendency to hunker down with a book or a quilt to work on or something of that ilk. I usually read books about sunny, hot places in the winter but I don't have any of them in queue right now. Here are 13 of the many that are awaiting me:
1. Straight Man by Richard Russo. This was recommended to me by another faculty wife at the department holiday party. I liked his Empire Falls that we read for book club and this one has my head spinning. It also makes me wonder if this is what Friend Husband and I will be like in 5 or 10 years (it's about the department head of English at some little university and the whole academia waltz thing is mindboggling and hilarious). So far, Empire Falls is the better book, though.
2. Drunk, Divorced, and Covered in Cat Hair by Laurie Perry. Ok, before the eyebrows raise, this was written by the woman who writes Crazy Aunt Purl, a blog that is on my SIR list. It's an interesting book so far but I can't read it when I eat (which is when I usually read) because it's new and doesn't belong to me or to the library, so I don't want to risk its getting messed up.
3. Snobs by Julian Fellowes. This was being read and enjoyed by Susan Wise Bauer, so I thought I'd give it a shot.
4. The Key Lime Pie Murder by Joanna Fluke. I've finished this but I haven't made all the recipes out of it that I want to. Yesterday I made the Cappucino Royales. They were enjoyed by most of the family but I thought they needed more coffee. Of course, then they probably wouldn't have tasted so like cappucino and wouldn't have been so much enjoyed by everyone else.
5. The Ultimate Doll's House Book by Faith Eaton and A Beginner's Guide to the Doll's House Hobby by Jean Nisbett. This whole thing with Rachel's doll house has the makings of a new obsession.
6. The Diary of Anne Frank. Mean mom that I am, I'm making Sarah and Rachel read this for school and I decided to read the "critical edition" myself. I haven't read this book in decades.
7. The Johnstown Flood by David McCullough. Making that list last week got me to thinking about other David McCullough books that I haven't read. Of course, you can't make a statement about how much you like his books if you haven't read all of them, right? Ha ha. Anyway, I read an interesting excerpt from a book about the Johnstown Flood many years ago (decades even) and I am wondering if this is the one.
8. Hiding to Survive: Stories of Jewish Children Rescued From the Holocaust by Maxine Rosenberg.
9. The Iliad by Homer
10. Mornings on Horseback again, by David McCullough. I really enjoyed Theodore Rex by Edmund Morris, although it was ponderous in parts. Theodore Roosevelt was such a person. They surely don't come like that anymore.
11. Tumbling Blocks by Earlene Fowler. Hooray! She's one of the authors whose books I read as soon as I can after they come out. Some of her books (I mentioned them in last week's TT) just have me bawling before the end. I don't anticipate that this would be one of them but I do have to say that I enjoy her depiction of relationships. I like her characters too, especially Benni Harper Ortiz and her family, but the relationships just really get me every time.
12. Candy Cane Murder by Joanne Fluke, Laura Levine & Leslie Meier. I've read food-related mysteries by all of these authors and when I saw this book on Amazon last week, I decided to see if our local library had it. It did and now it is in queue. I have to say this about Joanne Fluke's books. The recipes are marvelous. The family really likes it when I am reading her books because they know that cookies are coming shortly.
13. Thunderstruck by Eric Larson. I've enjoyed the last couple of books he's written for their lush depictions of life in another time. They are rather grim, as they describe death and destruction generally but the descriptions are so interesting that I can get past them.
So there you have it! What's on your winter reading list? Happy Thursday!

Get the Thursday Thirteen code here!


The purpose of the meme is to get to know everyone who participates a little bit better every Thursday. Visiting fellow Thirteeners is encouraged! If you participate, leave the link to your Thirteen in others' comments. It's easy, and fun! Trackbacks, pings, comment links accepted!

View More Thursday Thirteen Participants