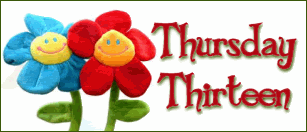 Thirteen Things

flowers that I love


Happy Valentine's Day to one and all! We don't exactly do a "standard" Valentine's Day (dinner out, romantic evening, flowers, candy, etc.) but I do like the idea of a day in the middle of bleak February where everything is festive and bright. If nothing else, I'll celebrate that about V-Day. Tonight, some of us are going to a singing school, so dinner will be a rushed affair and the parentals won't even be in the same house so it's a little hard to be romantic in that situation, unless you want to count taking care of the progeny of you both as romantic. Most people don't.

The other Valentine's Day tradition that we have is candy. Friend Husband brings each of us a heart-shaped box of chocolate candy. On the day after Valentine's Day. Yep, that's how sad, sick, and wrong we are...we shop for marked-down Valentine's Day candy and enjoy our candy the day after for less. Honestly, I probably wouldn't enjoy the candy nearly as much if we paid full price for it, knowing how ridiculously expensive it is.

Anyway, after reading Cousin Monica's blog yesterday, I got to thinking about flowers and how much I love flowers. Flowers are a Valentine's Day staple, right? And writing about them won't make me hungry, as writing about chocolate (my former plan) would.

So...without further ado, here are 13 of my favorite flowers

1) Roses, of course. I know that there are some people in the world who don't like roses or don't really care about them one way or another. I feel sorry for them. I love how roses look, how they smell, what they look like in the winter...I just love roses. My mother also loved roses so that's one link we have between the two of us. My late, great mil also loved roses...loved them enough to grow them in the desert when she lived in AZ. Now that's dedication!

I have two rose gardens: the Memorial Garden and the Dead President's Garden. To call those two "gardens" is gilding the lily a bit. The poor things struggle on year after year, but still put forth a few blossoms. The Memorial Garden started out with miniature roses and lilies that we received after the decease of Friend Husband's grandmother (whose name was Lillian Rosalind...get it? Lilies and roses? Ha.) Sadly, Friend Husband mowed over the miniature roses one summer, which discouraged them so much that they did not return. After my late, great, mil died, I planted a couple of full-sized bushes in there. After my own mother's passing (and the subsequent passing/chewing to bits of the full-sized bushes), I planted a Gemini bush and two Love bushes, which seem to have taken. (My siblings and I are all born in June, hence the Gemini bush.)

There are so many rose option out there...I perused a good many after Mother's passing, in order to put the "proper" ones in the garden. Then I ended up with the prosaic choices but I did have a good time looking at a bunch of them.

The "Dead Presidents" garden is sort of a joke. I noticed how many of the bushes are named after presidents, most of them deceased, and since I loved the Mr. Lincoln rose (deep red, with a marvelous true-rose scent), I started that. So far, there are 2 John F. Kennedy roses and the Mr. Lincoln struggling alongside Fourth of July and Stars and Stripes climbers.

I almost forgot my latest "acquisition", from last year. Friend Gail sent me a "Sisters at Heart" rose, which is in the flower section of my vegetable garden (if that makes sense at all).

2. Whoops, roses always get me sidetracked. Another of my favorites in the flower garden are forget-me-nots. For years and years, I put them into my silk ribbon embroidery work because of their imagery and meaning, not because of any personal association they had for me. After Mother died, I found some in a garden center and thought they'd be a nice addition to the Memorial Garden. Not to mention that blue was Mother's favorite flower. I've never been able to grow them from seed and I haven't seen them since, but I surely did enjoy them that spring.


3.
Friend Diane's
favorite flowers are
daisies
, and I have to say that they are one of my favorites too. They're invariably cheerful and grow with little help from me, which is an added bonus.
4. Peonies came to me later in life. Peonies are unheard-of in Texas, but a Midwestern staple, especially around here. I don't even recall having seen them when we lived in Missouri, but they are everywhere in the Cincinnati area, perfuming the air with their heavy rose scent and looking for all the world like an overblown rose. I actually schedule trips around peony time. My in-laws like for us to come down in May for visits but I usually try to push them back until it's not peony season. Here is a bouquet I made for a friend one year with a Mr. Lincoln rose, a peony, and some columbine. I liked it enough to take a photo of it (obviously!)
5. Years ago, when I started what was to become my vegetable garden, I planted some random wildflower seeds. Two or three of the varieties still come back and one of them is the very sweet
love-in-a mist
. Whenever I see them, I think of my brother and sister-in-law (because I once made a
quilt block
for them that had the same name). Of course, I never did finish that quilt, nor can I even find the blocks I made for it, but every spring when that flower comes up, I associate it with them. Weird, huh?
6. I'd heard for some time about the lovely columbine plant, state flower of Colorado, but had never seen one until a couple of years after the horrific
killings
at Columbine High School. When we moved here, I planted a blue one in my flagpole garden. It cranks back year after year and I just love seeing it come up. If I'm not mistaken, it's the same flower as the first one that Cousin Monica mentioned in her post yesterday, although mine is nowhere near as exotic as that one. Here is a picture of mine:
7. I have mentioned this before, but the first
crocus
of spring always lifts my spirits. Inevitably, it will come up on a nasty, grey, cold day when I am frustrated with life in general. Usually I'll be going out to check the mailbox and will notice one of the little yellow ones popped up through the snow and I'll start cooing at it. Crocuses are another flower I came to later in life and I just love them.
8. If you're sensing a springtime theme here, you're right. As I've mentioned (ad nauseum), I grew up in Texas, where flowering bulbs certainly were never planted. As a result, I'm enamored of all those sweet plant that come up out of nowhere in the spring, year after year. The first year we lived here, I planted tulips in our flagpole garden. They came up the first year but were consumed by deer the second. The next time I planted tulips, I did it closer to the house where, presumably, the deer would not want to venture. It worked last year...I guess we'll see if it works this year.
9. The daffodils are also sweet and lovely. Every year (in the fall), I decide that they're too
'common' to plant more of and every spring I am delighted again by their sunny little heads dancing above their bright green leaves. Maybe this year I'll get around to moving the daffodils that are languishing between our yard and the next. They were planted by the lady who owned the house 4-5 owners ago, the sister of the lady who lived there when we moved in. The area where they are inevitably floods each spring and fewer and fewer of the daffs survive. I do love plants with a history, as well.
10. I don't know that these count as flowers, per se, but I love the blooms on the lilac bush. Yet again, this is something we didn't have in Austin and I don't know how I lived without them for so long. There's nothing like the scent of the lilacs in full bloom. Sadly, ours has been snowed on and/or frozen out for the past two springs. I hope that it comes out well this year. The bush was planted in our yard by the curmudgeonly man who used to live next door, long before this house was ours. He also planted one in his yard, which didn't survive. He was always pointing out to me that I should give him some lilacs since he planted that bush (and I always did). I miss Mr. Bud.
11. Pansies always remind me of my late, great, beloved mil. Next to roses, she loved pansies. If she found herself at our house in the spring, she'd buy a flat of them and plant them in our yard. Every time I see one, I think of her first.
12. Irises always remind me of my great-aunt Nina, who had a tremendous border of them alongside her farmhouse. I think they're also a lovely, elegant flower on their own but as I've said (and what should be abundantly obvious by now), I am a sucker for a plant with a story.
Last year, Friend Sharon was cleaning out one of her iris beds and was practically begging people to take them. You don't have to ask me twice...I'm all about free perennials (especially those with associations). Abby and I planted them in the new garden abutting the Dead Presidents Garden and she was almost as delighted with them as I was.
13. I'll throw in a summer flower here because I do like summer flowers but I think the yearning for spring is strong right now. I just adore
portulaca
. It's an extremely simple and common flower but at the end of August, it's still going strong and just as pretty as it was in June. With its bright flowers, it always reminds me of Texas. This image is from a site on Xanga that I read all the time. When I grow up, I want to be Alice.
Well, now that I've wiled away the morning thinking and writing about flowers and HEY, WAKE UP! Sorry, I figured that you were asleep. Anyway, I'll sign off with wishes for a happy V-Day and also happy birthday to Lucy the Wonder Dog. I'd forgotten about its being her birthday until Rachel beebopped in here to tell me. The girls made her a dog food birthday cake and sang "Happy Birthday" to her.
Get the Thursday Thirteen code here!


The purpose of the meme is to get to know everyone who participates a little bit better every Thursday. Visiting fellow Thirteeners is encouraged! If you participate, leave the link to your Thirteen in others' comments. It's easy, and fun! Trackbacks, pings, comment links accepted!

View More Thursday Thirteen Participants