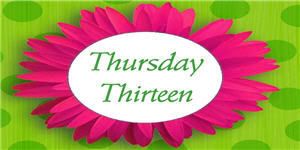 Thirteen Things about my daughter Rachel on the occasion of her 12th birthday


Rachel is 12 today...happy birthday, little girl! Where has the time gone?

Rachel was born on her great-great-grandfather's birthday.

She was expected to have been born about a week later (around the time of her older sister's birthday) but the ob/gyn decided to induce earlier because he was worried that she'd "be over 8 ½ pounds". At 9#, 1½ ozs., she was the smallest of the babies to whom I gave birth. I told that doctor she was already over 8½ pounds!

Rachel has always been a little ray of sunlight. She was our "happy baby", the one who went with the flow and smiled at everyone, as long as she was fed on time. She was also one of the two who I had to carry around in a sling for the first year or so of her life because she was extremely happy that way.

We celebrated Rachel's birthday on Saturday, as we're having a church meeting starting tonight. Our tradition is that the birthday person can pick what s/he wants for supper and request a certain dessert. Rachel picked gumbo with extra shrimp, sweet potato casserole (gag!), garlic cabbage, green salad, asparagus, and chocolate lasagne for her birthday dinner. And yes, she got it all.

Rachel is musically talented. She has a lovely soprano voice and she plays piano by ear. (Yes, I know it's not good for her to do that but what do you tell a child who likes to doodle around on the piano?)

Rachel was the only one of the children to whom I gave birth who was born at a time when most people are asleep. She was born around 12:17 in the morning. She likes that because it means that she's turned a new year in her sleep and she awakens a year older.

Rachel loves pickles of all sorts but especially spicy ones!

Rachel has always been our vegetable lover. Once, when she was younger, we had to tell her to eat her cookie first and then she could have more broccoli.

Rachel didn't walk until she was 18 months old, the latest by far of all my children (including the twins). I think that part of that was that we were getting ready to move when she was a year old and older and it was just easier to pick her up and carry her rather than to let her walk. My late, great mil took a picture of her just as she took her first step. The picture is just priceless...the look of surprise and delight on her face is so sweet.

I've always thought that Rachel looked a great deal like my mother, certainly more so than the rest of us have.

Rachel was named Rachel because I loved the name. (Still do!) One of her middle names is Joy, after my mother and mil, who shared that or a variant as a middle name. She has always been a joy in and of herself.

Today we are toodling off to the mall because Rachel's grand desire for the last several months has been to get her ears pierced. Her dad said she had to wait until she was 12. I think we will probably be there as the store opens. Despite her plans to the contrary, she popped out of bed early this morning.
Happy birthday, Rachel!
Links to other Thursday Thirteens! 1. (leave your link in comments, I'll add you here!)
Get the Thursday Thirteen code here!

The purpose of the meme is to get to know everyone who participates a little bit better every Thursday. Visiting fellow Thirteeners is encouraged! If you participate, leave the link to your Thirteen in others comments. It's easy, and fun! Be sure to update your Thirteen with links that are left for you, as well! I will link to everyone who participates and leaves a link to their 13 things. Trackbacks, pings, comment links accepted!
View More Thursday Thirteen Participants