Way back at the end of May, Ali had a contest to make knitting plans for the summer. Here were my goals:


So here are my goals for the summer:

1. I joined the sock-a-month KAL which ends on 7/31, so I hope/plan to knit two pairs of socks.

2. Knit my cousin a kimino out of the Mason-Dixon Knitting Book for her first baby, due at the end of August (like an August baby in LA needs a long-sleeved kimino, but whatever).

3. Knit the twins sweaters out of some of the acrylic that I got for Mother's Day.

4. Knit the dishcloths that I need to have to give the ladies at my congregation for their birthdays (I've been giving them a hand-knitted dishcloth for their birthdays...they don't get it but it makes me happy.)

5. Finish knitting and shrinking Friend Diane's felted bag which is in exchange for the dandy soap she gave me this month.

And that's enough for this girl. I've got five children, camp to get ready for and to go to (and to return from) a 40th birthday celebration to contemplate (my own, on Father's Day), homeschooling to do, and several gardens to keep under control. Enough excuses? Probably.

Let's see how well I've done at the end of the summer.
What have I completed? Well, I did dishcloths for my sister's wedding and for another couple's wedding gift, but I don't suppose that counts on the dishcloth agenda. I did finish 2 pairs of socks, more or less, for the knit-along. Wanna see the new ones? They're really felted slippers but they count because they're constructed like ginormous socks. Here they are:
Before: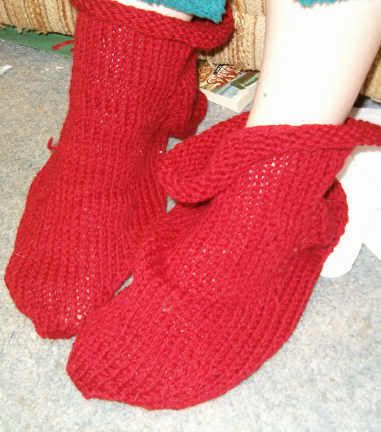 After: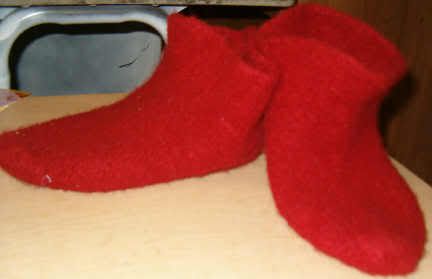 So #1 is completed. #2 is started and I knitted on it a bit today. I still have my doubts about whether or not my cousin will like it but it will be done nonetheless. Baby Landon is due next month.
#3? Pfffft! What was I thinking? Yes, I know what I was thinking: "Surely I can whip out a couple of toddler sweaters this summer." Riiiiight! Friend Gina is making the same pattern for her daughter so I'll see how hard they are. Instead, I promised Friend Husband that I'd make him a cool Man Sweater. Ha. Riiiight.
#5 was completed and every time I see Friend Diane she just thanks me over and over. What a sweetie! I'm glad it turned out well and didn't look like it had knees, like Rachel's bag does.
Over and out.