Edit 7/6/07: I fixed it the brute force way but it's not the best thing in the world...sorry!

Edit for Blogger: I don't know why the right half of
the post is gone and I can't fix it right now so
enjoy the pictures!
Thirteen (or so) pictures of my gardens
They asked us to look back at our
thirteen favorite TT's but I just couldn't
hack that assignment. This one was almost as bad,
but someone asked me last week if I'd post
pictures of my gardens and so I am.
1. The garden that started them all: the vegetable garden
This is a picture of my squash and
lots of catnip (and weeds) in the veggie garden last
week. I've got more stuff planted but I didn't have
time to photograph.
It also contains some onions (once you plant those,
they never go away) and love-in-a-mist. After the
love-in-a-mist is finished seeding, I'm going to move
it out of the vegetable garden so that I can enjoy it
amongst its flowers. It's a lovely flower (this photo
does not do it justice) with interesting seed pods.
2. This garden also dates from when we first
moved to this house. The previous occupants
had dug a tiny square around the flagpole and
planted begonias which promptly died. According
to one of the neighbors who'd lived here a while,
that was the extent of their gardening, ever, in
the 30 years they lived in this house. Sad,
because it's a fun place for a garden. This is what
my flagpole garden looks like right now:
Most everything is green right now,
instead of flowering. This is the garden where
I have a lot of my spring bulbs and early spring flowers
like the following: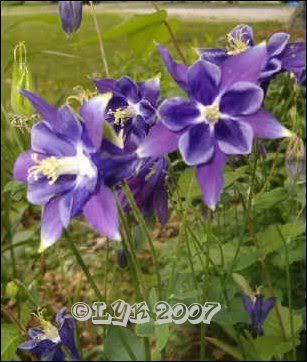 Columbine
Tulips
and daffs
These two flowers also bloom there, as well as some pink yarrow:
3. Moving up closer to the house, we have the garden that is closest to the front porch. This had something in it...maybe some nasty juniper bushes that promptly died after we moved in? Yes, I think that's it. I've expanded it somewhat and added many perennials to it. I will also stick annuals and my houseplants here most summers.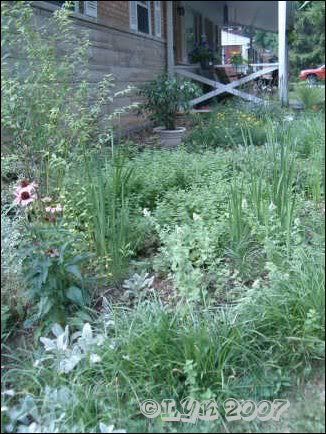 The long view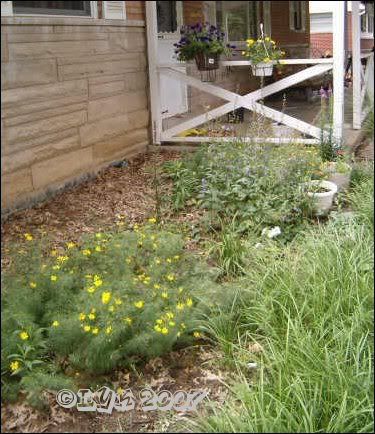 Different view featuring coreopsis (purchased with the last of Mom's birthday money), monkey grass (acquired from my beloved sister-in-love when she lived in Wichita), and some purple spiky type flowers from my Friend Pat.
On the left side of that same garden are a bunch of herbs, prominently featuring lemon balm. That stuff, in my experience, spreads much worse than mint, which I also have there. I also have sage, thyme, oregano, Bud's yellow bush, glads, and a few other random things including this pink flower. Does anyone know its name?
And, of course, the bleeding hearts.
4. The fourth garden I put in here was the
memorial garden I've written about before.
Generally, the flowers (roses and lilies) aren't
blooming at the same time, so here are pictures of
it in varying stages of bloom and with its various denizens.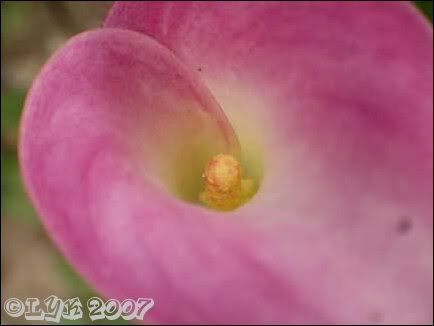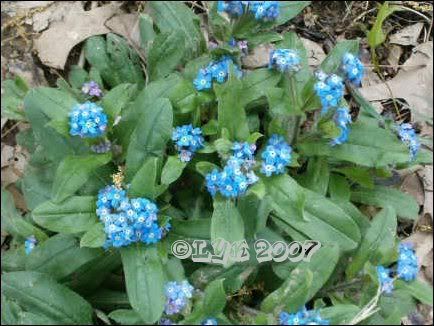 I just love forget-me-nots!
5. About the same time I put in the memorial
garden, I plunked some peonies in the front yard
and planted the Dead Presidents' Memorial Garden
where my Mr. Lincoln and John F. Kennedy roses
are struggling to live. That picture was way too
pathetic so I won't put it here. It does exist, though.
I think I'm going to try to replant those guys further
away from each other and see if they do any better.
6. Last year I got a wild hair to finally dig up around
the peonies and put a bed around them (yes, I know
that's backwards...most things in my life are) so that
Friend Husband would be less likely to mow them
down. So I did that.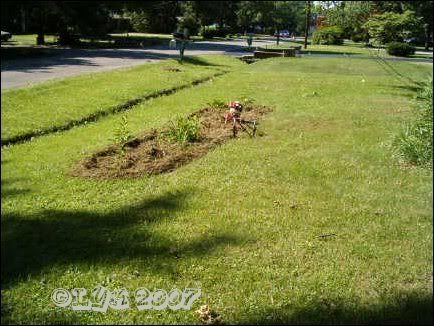 7. Later on in the summer (right about the time that
Friend Sharon had given me a bunch of brown-eyed Susans
and I had no place to plunk them, I decided to put in a strip
connecting this garden with the flagpole garden. You can sorta
see it in this picture, behind the lilies.
I just planted some daisies there and the Susans are
about to be getting taller, so I have great hopes for that one.
8. Last summer was the time for wild hairs. I decided
to start another garden near the existing lilac bush to
enclose the Dead Presidents' Memorial Garden and also
to make a place to grow perennials that needed to be
moved from other locations. Here are some lilac pictures
from the lovely bush which, sadly, did not bloom this year
(frost and all, you know). The people who first built this
house planted it and I've been trying (successfully so far)
to get some other starts off it to put elsewhere.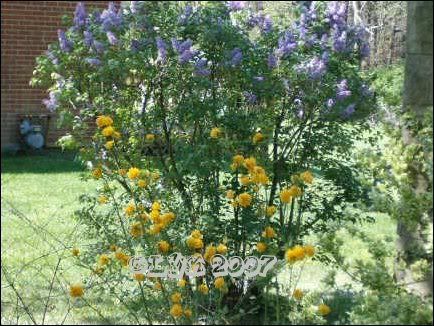 9. When Daughter Abigail saw me planting the garden,
she begged and pleaded for one of her own. Since she'd been
persistently asking me for over a year (and since I sneakily
wouldn't mind someone else having this gardening need),
I dug one up for her. It's the one you see in this picture, just
a bit of a square which includes the lilac bush.
Abby's pansies have done very well this year (they're still
blooming yet!). We got home in time to see the last of her
irises and some of her daffodils and tulips before a late freeze
killed all of them.
10. In yet another crazy time, I decided to plant (you
guessed it) another garden, this one alongside the driveway
as we walk out the main door. I was hoping to beautify it a
little as the neighbor's yard next door is usually unbeautiful.
It's doing ok with ditch lilies, brown-eyed Susans, lots of mint,
and the crocuses in the early spring. Oh, and bunches and
bunches of wild violets (those would be weeds).
11, 12, and 13. A long long time ago, I planted a tree in
memory of the baby we lost in 1994. When we were
back in Columbia, we drove by the old house and I was
pleased to see that it survived.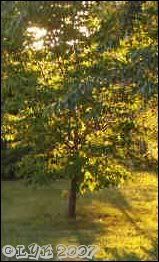 And I've helped other people put gardens in (or maintain them):
1998 (no pictures). I know I'm stretching the last 3 but I
surely have more than enough pictures in this post and it's
time to go twin wrangle. I hope y'all have a happy Thursday!
Links to other Thursday Thirteens! 1. Ed, 2. QTPies7, 3. Lissa, 4. Karen W.
(leave your link in comments, I'll add you here!)
Get the Thursday Thirteen code here!

The purpose of the meme is to get to know everyone who participates a little bit better every Thursday. Visiting fellow Thirteeners is encouraged! If you participate, leave the link to your Thirteen in others comments. It's easy, and fun! Be sure to update your Thirteen with links that are left for you, as well! I will link to everyone who participates and leaves a link to their 13 things. Trackbacks, pings, comment links accepted!
View More Thursday Thirteen Participants