I'm sorry that I've once again been AWOL. It's been pretty crazy around here. Congrats (and thanks!) if you've continued to hang around despite my lack of bloggage. I did attempt to get on yesterday, to no avail. Don't these people understand that I've got blogging to do? Honestly...

Thirteen Things that I have knitted in the last year (since I learned to knit)
1.
A kimino for my cousin's son. From the pattern in Mason-Dixon Knitting, with CottonTots yarn. It was cute, but seemed to take forever.
2.
Hats for David and Keziah. They've grown into them better this year. Keziah's hat was my first (scary!) and from Crazy Aunt Purl's pattern. I'm not sure that I had a pattern, per se, for David's hat. I think I just guessed.
David's hat was made out of Caron Simply Soft and Keziah's out of some Bernat clearance stuff that I got when I very firstly started stash acquisition.
I guess, now that Friend Husband reads my blog, I have to be more circumspect about my stash(es). "No, Honey, that's not new/expensive/an impulse purchase!"
3.
The scarf that I made for Friend Husband, my very firstest. I also got the pattern, sort of, from Crazy Aunt Purl. Only I didn't count correctly, so some of the squares were rectangles rather than squares. It's made out of Lion Brand Homespun, which is pretty but is a wily sort of yarn. Friend Gina hates it with a passion. I haven't run into the problems that she has with it, yet, so I don't hate it but it's a bit annoying.
4.
A cat toy that I made from the remnants from Keziah's hat and scarf. It's just stockinette stitch, seamed up the side, and stuffed with catnip. Ari loved it.
5.
I apparently didn't take a picture of my very first ever project (it was rather ugly in its production), so here's the first half of it. The Grandmother's Favorite Dishcloth.
6.
6.
At some point, I got enamored of the Mason-Dixon Buttonhole Bag and made a few. This is the one I made myself, first. This is the first time that I actually drooled over yarn. (Well, not actually, but you know what I mean.) I loved these colors in the ball and I love them even now, when I've been carrying this puppy around for a while. The yarn was Paton's Classic Wool, I think: brown, whatever variegated that is, and the purple, whatever they call it. Too, too yummy.
Man. Now I'm all itching to make a Buttonhole bag.
7.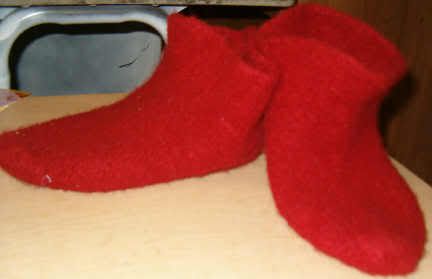 At some point, I voiced the opinion to Friend Gina that I wanted to learn to knit socks. She told me that I needed to make Fuzzy Feet, in order to learn the process on big needles, with big yarn, before I progressed to little needles and little yarn. As with most things, she was right. Although I whined and whinged, she continued to say, "Do what you want to, but I think this is what you should do." And I finally did. And I love these guys. They are soooo warm. Of course, I finished them in something like August, so I couldn't wear them for a while, but I'm enjoying them now. (Yarn was Cranberry Wool of the Andes from Knitpicks.)
8. The Fuzzy Feet were, of course, the gateway drug to yet more sock knitting. Like this:
I loved these socks because 1) they're green and I love me some green anything and 2) they fit my size gigantor feet to a tee. Yay! Sadly, they are now not my favorites because the yarn leaves something to be desired. It's a good-enough yarn, just not really meant for socks. (Sinfonia) It's cotton and apparently doesn't keep its shape so well after washing. Oh well...they were fun. The pattern was Silver's easy sock pattern.
9. And yet more socks:
Whitby socks by Nancy Bush from Knitting on the Road in J-Knits yarn that I got in a blog award. Sadly, I had to gift these to Rachel, as the heel was too tight for my ginormous clown feet.
10. And then these:
Made with Friend Gina's leftover Lion Brand Magic Stripes, for Dave. Pattern is here. Dave loves these socks in the snow. Well, with boots on too, but they keep his little tooties warm when it's cold.
Boy do I miss knitting socks.
11. Here is another buttonhole bag:
12: Here are more dishcloths: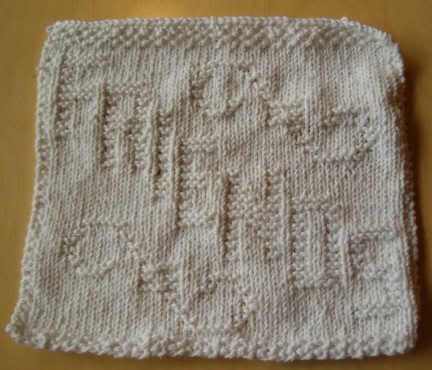 (It says "friends".)
Yeah, y'all get the picture. Here's a great place for patterns of all sorts, not just dishcloths. I probably got all of these patterns and more from this site and its links. I still wish I'd taken a picture of the Longhorn dishcloth I sent my sister as part of her wedding gift.
13. And then I decided to get ambitious and knit a sweater. Quite frankly, it's been rather a bore. But it's almost finished and I'll take a picture of it when it's finished.
See, Autumn, I told you I'd knitted a bunch of stuff!
Get the Thursday Thirteen code here!

The purpose of the meme is to get to know everyone who participates a little bit better every Thursday. Visiting fellow Thirteeners is encouraged! If you participate, leave the link to your Thirteen in others' comments. It's easy, and fun! Trackbacks, pings, comment links accepted!
View More Thursday Thirteen Participants