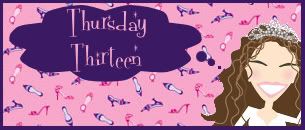 Thirteen things I love about my sister-in-law
We are currently in Knoxville, spending some quality time with my brother's family. I was thinking last night about how much I adore my sister-in-law. I did my best to warn her off of both my brother and our family but despite that, she signed on for the long haul. They have been married 13 years or so and I've just grown to love and respect her more over that period of time.
So, here, in honor of our hostess with the mostess, thirteen things I love about Amber:


1. She is inevitably optimistic. Her husband and I do not share that characteristic, but I do appreciate it when I see it in other people.
2. She is a patient and loving mother and I try to remember some of the ways she deals with her girls when I'm dealing with my own.
3. Amber always has the coolest ideas. It was she who got me interested in taking a cake decorating class, homeschooling, and other things that I've since forgotten. She's always an ally in doing new and interesting things.
4. Although she would deny it, she has so much energy. Throughout most of my brother's Air Force career, she was alone with their girls while he was traveling the world. Just the thought of being a single mother for that period of time makes me tired. She has also taught school, is active in her children's classes, in her church, and in various civic drives in her communities.
5. She is extremely supportive of our family.
6. Along with #5, she was specifically supportive of our adoption and has been unfailingly there when we needed her.
7. I rarely see her without a lovely smile on her face.
8. She's an awesome aunt. Although my brother didn't bother to provide me with nieces until I was 30, she married into nieces when she married Robert. Even before she was married, she gave Robert gift and card ideas for Sarah.
9. Amber is so very patient. I know she would scoff if she saw that, but when my children are doing rotten things at her house, she doesn't get onto them. She finds a way to reframe what they should be doing and inspires them to do so.
10. She's invariably encouraging and informative in our endeavors to become healthier individuals.
11. She deals with my brother. That alone should be enough to get her the Nobel Peace Prize. Forget about Al Gore...Amber is where it's at.
12. She's quite intelligent and quite the inspiration for our girls, growing up to not hide their lights under a bushel.
13. Hey, she deals with me and the Wild Bunch...there's Nobel Peace Prize #2.


Get the Thursday Thirteen code here!


The purpose of the meme is to get to know everyone who participates a little bit better every Thursday. Visiting fellow Thirteeners is encouraged! If you participate, leave the link to your Thirteen in others' comments. It's easy, and fun! Trackbacks, pings, comment links accepted!

View More Thursday Thirteen Participants