Just an edit from yesterday's Wordless Wednesday photos, the cat did not scratch David. I smacked him with a (cardboard) puzzle base that I was throwing down the hall to put away. He happened out just as the base reached that area. The look on his face was so hilarious that I rolled laughing but wasn't laughing when I (later) saw the cut on his head. Ouch! It seems that whenever something happens to Dave, it happens on or very near his nose. I hate to think what his nose will look like when he's a man.
So, don't blame the cat. I'm the one who pasted Dave and scratched up his face.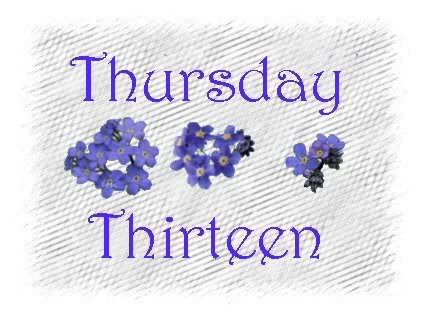 Thirteen Things about my mom


I was thinking about blogging about something else today but I got
some bad news (about someone else) last night and I just can't focus
too much on anything else. Plus, this is the fourth anniversary of
her passing. I was thinking about that last night. There was so
very much going on when she passed and her passing was like flicking
the first domino in a long chain. That was the start of my latest
and greatest clinical depression. Four years later, I think I finally
have a hold on that. And I still miss her, my heart still aches for
her passing and for her life, but it isn't crippling anymore. For
that I am thankful. Without further ado, thirteen things about Mom.

1. She had the most beautiful handwriting I've seen since they
stopped teaching copperplate script in schools.

2. She was left-handed, as was my late, great mil. They loved
that they were both left-handed and hoped that one of their
granddaughters would be as well. Alas for Barbara (the late,
great mil), none of her granddaughters was but one of my brother's
girls shows great promise as a southpaw.

3. Mother had the most beautiful eyes. When I was there in
her final illness, caring for her, Friend Cherylyn encouraged me to
memorize the color of her eyes. I've been grateful for that ever
since. Her eyes were a medium soldier blue (blue with a bit of
grey in it) and so so lovely.

4. I taught Mom to do cross-stitch embroidery when I was in
my teens. While my "works" consisted mainly of cross-stitched
mottoes, hers were works of art. It was a craft at which she
excelled and which gave her a great feeling of accomplishment
over the years.

5. Mom baked a mean Italian Creme Cake, which was her
friends' favorite thing for her to make for them. More than
one of them asked her to make them for a wedding or an
anniversary party. (Sad to say, it was not her children's favorite
dessert.)

6. Mother

loved

babies. She was the woman in her congregation
who would pop up to a new mother and beg for the privilege to
hold their newborn. When my girls were born, she came out to
spend a week helping out and would sleep with them either on
her chest or right next to her in bed. When they woke up to be
fed, she happily schlepped them to me and took them back when
I was finished nursing them. I think if she had been able to, she
would have had a houseful.

7. According to my dad, Mom had an easy time delivering her
babies too. That was not my memory when she delivered my
(half) sister Kimberley when I was 14, but Daddy says that my
brother and I were born in record time with an impressively
small output of effort.

8. I loved Mother's name but she really didn't, especially her
middle name (Joy). Of course, two of her granddaughters have
that as their middle name, one of mine and one of my brother's.

9. I don't know if it was just being a part of her generation, but
Mom was very concerned about how she looked and she got very
frustrated with me because of her perception that I didn't care.
When I was in my last year of college, I was a confederate in a psychology
experiment. This meant that I had to look like a freshman, which I
attempted to accomplish by not wearing makeup to school. Mom was
convinced that I was "letting myself go" and told me in no uncertain
terms that the man who was to become Friend Husband in short order
was a bad influence on me. Heh. Even in the last days of her life,
she was plucking stray hairs and putting on makeup to go out to
appointments. Go, Mom.

10. Mom loved her friends and her cousins. She gave a lot of time and
energy to upkeep on those relationships. When I was in Texas for the
family reunion, her cousins were pleased to see me and the extra
undercurrent was that they missed Mom so much. And I still get cards
and phone calls from her friends. Amazing!

11. Because she did not get a college degree and felt crippled in this in
her job, she insisted that her children get their degrees. She (unlike my
stepfather) didn't care what they were in as long as we had "that piece
of paper". I think she was happier than we were when we got them.

12. One of the tenderest moments I had with Mom was when I was
about to graduate with my Master's and had a miscarriage. She and
my mil were coming up to "see me walk" to get my diploma and she
tried so hard to get me to come back to Texas with her because I was
so devastated by the miscarriage. You have to understand that she
was not thrilled with my choice of Friend Husband as my life's mate
and I think she wanted to do some coddling on her own but she accepted
my "I...I...just want...to stay...with Doug," without a murmur. I know
it doesn't sound particularly tender but it was. It was unusual for her
to demur when she had her mind set on something, especially when
she knew she could manipulate the situation easily to suit her wishes.
That she chose not to in this case was a permanent plus for me.

13. Of course, Mom adored her granddaughters. When I was pregnant
with Sarah, my oldest, and found out that the baby was a girl, Mom
was over the top with happiness. I think she wanted a granddaughter
to dress up in frilly, lacy clothes and hair bows. She made it plain that
she was thrilled with granddaughters and that's what she got: six
granddaughters before she passed. I think she would have laughed
uproariously to hear what merry chases David leads me on but she did
love her granddaughters.

What to say? I miss her so much. While we were never close, there
are still times when I think, "Oh, I'll have to remember to tell Mom
about that!" Then it hits me that I never will. If you still have your
mother, give her a big hug from me.


Get the Thursday Thirteen code here!


The purpose of the meme is to get to know everyone who participates a little bit better every Thursday. Visiting fellow Thirteeners is encouraged! If you participate, leave the link to your Thirteen in others' comments. It's easy, and fun! Trackbacks, pings, comment links accepted!

View More Thursday Thirteen Participants